The First International ISAC Olympiad was held in Iran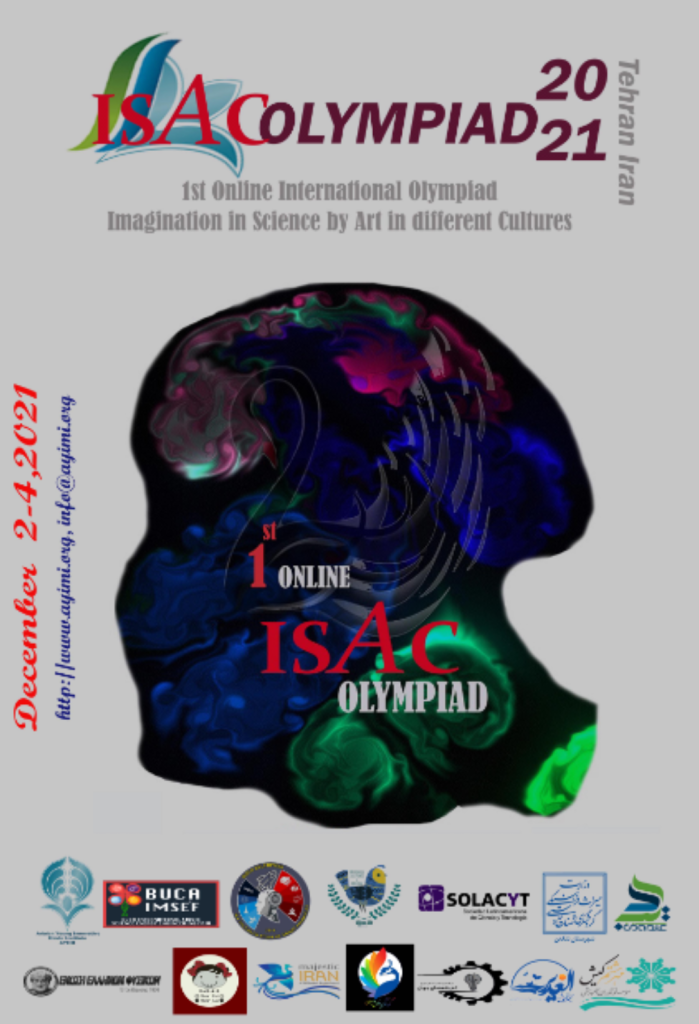 TEHRAN(ISW)-The first International ISAC Olympiad a Scientific, Cultural and Artistic Olympiad was held in Iran, Tehran on December 2-4.
Ariaian Young Innovative Minds Institute (AYIMI) and ADIB Artistic and Cultural Institute were the organizers of this Olympiad. Participants from different countries, Turkey (BUCA IMSEF IZMIR), Greece (Greece Physical Society), Bulgaria, Mexico (SOLACID), Serbia and participants from Kok Centre, and different participants from AlghadirKish, Mehr8Kish, Elmadab, Shayestegan Razi,Vale and Science skill centre, presented their projects online in two days , Friday and Saturday .
About 100 Projects were received in different categories: painting, visual arts, designing underwater/space buildings, photography/science photography and music.
At the closing ceremony on Saturday afternoon, participants were awarded cash prizes in addition to medals and international certificates in different categories of all ages. In visual arts the gold medal winners are: Mohammad Reza Madanipour (and winner of 10 million Rials cash prize), Mehrab Abdollahzadeh (winner of 5 million Rials cash prize), Fatemeh Ahmadizadeh and Shahrzad Adish, Masoumeh Nasir Shoaeibi, Anahita Monadi and Hamta Rad Goodarzi. In this section, the silver medal winners are: Mitra Rashidi Hamid, Elahe Amin Bagheri, Khadijeh Salimi and the bronze medal winners: Sepideh Sobhdam, Farid Nourzehi and Sana Taleshi. In the painting section gold medals are: Nastaran Kashanian (winner of 5 million Rials cash prize), Shima Tajik Zarei (winner of 5 million Rials Cash award), Seyedeh Farimah Tavakoli Benizi, Nahid Mehranfar, Setareh Nazari Kahangi, Afsoon Farnia and Silver medal in the same section: Mara Raikovich from Serbia, Sepideh Davaneghi, Ruhollah Mohammadi Azizabadi, and bronze medal: Bahareh Sadeghi Ekbatani, Asieh Tahani, Hooman Jamshidi Arian . In the designing of underwater or space structures gold medals: Zoe Konstantinidou, Ioanna Petridi and Polyxeni Panou and Andrianna Solomonidou from Greece (winner of 50 euros), and Seyed Mehdi Musavi .Gold medal in photography and scientific projects: Reni Paskaleva and Denitza Vassileva (winner of 50€) from Bulgaria Kayra Koray YILMAZ and Zeren Kaynak, Karşıyaka Efe Afyonlu from Turkey, Myrahis Yurizahan Sanluis Cerezo and Ameyalli Flores and André Vázquez from Mexico, Amir Ali Safari (winner of 5 million Rials cash prize), Amir Abbas Andi and Nora Norouzi Fahim. Silver medals: Mehmet Akif Karakaş and Taylan Yalçın, Begüm Atay , Muhammet Tahir Büyükhelvacıgil, Sacit Büyükhelvacıgil from Turkey . Bronze medalists in this section: HATİCE KÜBRA EROĞLU, İREMSU AŞLAKÇI , Hüseyin Yağız Devre, SENA OCAK from Turkey . Gold medal in science fiction story: Hirbod Brahim Ghafouri, Amir Ata Sajjadi and Miad Goran, Niloufar Khosh Namakian and Melina Fahimi . Silver medal in music Category: Ghazal Attari .
Encouragement medal:Yiğit ZOBU, Uygar KORKMAZ , MÜŞERREF ŞEYMA ŞAHİN , Eren Çömezoğlu from Turkey , Delaram Sadat Amouzegar , Seyed Kian Ale Davood, Parastoo Heidari, Parisasadat Abedi, Zahra Heidari.